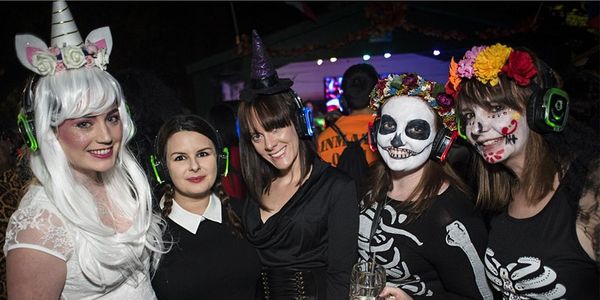 Spooky Silent Disco - Halloween Edition Powered by Quiet Events
October 28, 2022 9pm
We're holding it down with a pre-Halloween party on the 28th from 10 pm to 2 am at The Belmont. Expect hundreds of party-goers decked out in their Halloween hotness singing, dancing, and drinking with 3 DJs battling for your attention all night long.
Costumes are not required, but they're strongly suggested and a whole lot of fun! We'll have a photographer on hand to capture all of the Halloween debaucheries!
Your 3 Live DJs are spinning all night:
DJ 1 (Green): Top 40 Dance Hits
DJ 2 (Red): 80's, 90's & 2K Throwbacks
DJ 3 (Blue): Hip Hop, R&B
Your experience includes:
A pair of Quiet Events headphones
Glow in the dark gear
3 DJs battling for your attention
How it works:
When you arrive, you will receive a pair of special wireless headphones. You can adjust the volume and choose between up to three DJ's with a flip of a switch. Each headset has a color LED that shows what channel you are listening to. It is super social; you are in control of the music! There is no loud music that you need to talk over. Plus, there is no ringing in your ears when you leave!